What You'll Gain By Working With Us

Varied Industry
Expertise
Collaborative
Solutions Partner

Dedicated Technology
Specialists
Are You a Health Plan or other Corporation?
Does your company need help managing all your technology more simply and effectively so you can increase productivity and profitability?
We offer a variety of consulting services that will meet your corporation's every need.
LEARN MORE
Are You a Small Business?
Are you in the market for a custom solution to your technology needs?
We'll work with you to develop solutions that might include creating custom software and/or mobile apps that incorporate all of your functionality in one place, saving you both time and money.
LEARN MORE
Are you in need of short-term tech support?
Whether you're looking for a dedicated tech assistant for two hours, two weeks or longer, we can provide the technical support your small business needs.
We specialize in helping you streamline your technology, freeing up your time and money for more important things.
LEARN MORE
What Makes AndTech Solutions So Different?
What makes us different is our longevity in the industry and the subject matter expertise we've gained by serving clients who expect the highest standards in implementation and delivery. As a result our growth and client base has been the result of solid referrals. We continue to strive for excellence, always seeking continuous improvement through a commitment to ongoing learning and training of advanced technologies, which will impact client success now and into the future.
See what some of our clients
have to say about working with us
Senior Manager, Healthcare
New York, NY
""…dove right in to the fray, which has only gotten crazier, and has managed to handle a lead delivery role on multiple concurrent releases with aggressive timelines, while supporting CCA optimization initiatives in concert with CCA product, and on top of that has supported critical support incidents along the way."
Optimization Team Lead, Healthcare
New York, NY
"Your ability to leverage all the resources at your disposal, facilitate at an expert SME level and ensure delivery expectations are aligned is what makes me so sad to see you go and happy for your success."
Manager, Waste Industry
Aurora, CO
"Thanks for taking the time to ensure that our FastLane GoLive was a success."
Team Lead, Healthcare
Richmond, VA
"Thank you all for a Wonderful and Successful iPad Build."
Director, Clinical Systems, Healthcare
Newark, NJ
"I would like to say JOB WELL DONE on closing out the NJ POC tickets on today."
Project Manager, Oil and Gas
Houston, TX
"…proved to be a great asset in our migration from FileNet to SharePoint…"
Director, Clinical Systems, Healthcare
Los Angeles, CA
"It has been an absolute privilege having her on this team."
Senior Manager, Healthcare
New York, NY
"…took our 3 new college grads under her wing and has been working to train them in CCA while managing all other work efforts without fail. She has been pulled in 90 different directions since joining our team, and has not only taken it in stride, but has done it with an outstanding attitude the entire way."
Salon Owner, Beauty Industry
Houston, TX
"Thanks for providing a professional entry for my salon.  The kiosk is such a great addition and it removes the need for a physical person to man the front of the salon."
UM Team Lead, Healthcare
Bridgeport, CT
"I appreciate all your hard work and efforts with us since our first implementation into CCA began.  You have been instrumental to my sanity on the testing of letters."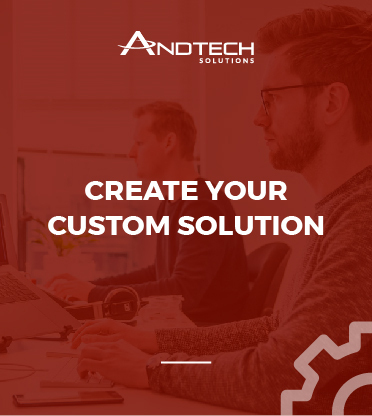 FREE! Developing A Custom Solution:
Benefits of creating a custom IT solution.
By entering your information, you agree to receive information and promotions from AndTech Solutions per our privacy notice. You can unsubscribe at any time.